Mentoring for Change
Are you interested in mentoring or be mentored?
The Mentoring for Change program assists internationally trained professional newcomers in their settlement process, language skill development, and search for professional employment by matching them with suitable mentors.
For more information about these services, please contact:
Rosaline Graham, Mentoring Coach
Youth Employment Services (YES) is Canada's leader and has helped hundreds of thousands of youth find employment and change their lives.
FREE Monthly Workshops Include:
Resumes that Work!
Cover Letter that Work!
Job Search Techniques
Interview Techniques and More!
ACCES Employment is a leader in connecting employers with qualified employees from diverse backgrounds. More than 20,000 job seekers are served annually at five locations across the Greater Toronto Area.
Monthly Workshops Include:
Youth Job Connection
Entrepreneurship Connections
Financial Services Connections
Career Self-Assesment
Leadership Connections and More!
---
The Employment & Training Centre helps people prepare for and find work. We provide an extensive range of FREE services to youth, newcomers to Canada, and other members of the local community. Participants get the necessary tools to enter or re-enter the work force.
FREE Workshops Include:
Building Resiliency & Managing Change
Experience the process, discover the tools and develop the techniques needed in today's ever changing world to build resilience and adapt to change in the workforce.
Interview Skills
In this interactive workshop, you will learn how the interview process works and practice with sample interview questions.
Mock Interview
This one-on-one mock interview with an Employment Advisor/Job Developer will help you practice and will give you informative tips and suggestions to improve your interview skills. This session is by appointment only.
Powerful Communication at Work
This interactive session will teach job seekers the skills to become more effective communicators at work, as well as how to lead solution focused discussions in a variety of employment settings.
Reinventing Yourself
Whether you're looking for a new career or you want to improve the one you already have, this workshop is for you.  Embrace your existing skills, values, interests, strengths and clarify your job objective and goals, through this engaging career development workshop. Leave equipped with new tools to empower you to reinvent yourself and achieve your employment goals.
Social Media Networking
This workshop will introduce job seekers to social media as a tool for effective networking. Participant will also learn how social media can assist in career development, help them make connections to other professionals and find employment leads. Participants will also discuss the professional use of social media, practice tweeting, and develop a mock LinkedIn Summary.
The Resume: A Living Marketing Document
Learn why resumes are constantly changing and how you can tailor your resume for success. Leave with a variety of techniques to market yourself when searching for work.
The Centre for Education & Training (TCET) is a not for profit, progressive corporation located in Mississauga and Toronto. We enhance the self sufficiency and effectiveness of individuals and organizations by offering customized education, training and career resource solutions.
FREE Workshops :
Job Search Strategies
Explore strategies to conduct a successful job search and explore the hidden job market.
Business Letters
Learn effective use of a cover letter to introduce yourself and your resume.
Resume Preparation
Learn techniques for creating resumes that grab employers' attention.
Resume Optimization
Learn tips and techniques to make your resume powerful and impressive to compete with other resumes.
Interview Skills
Part I: Explore the 7 phases of the interview (before the interview, opening moves, the interview itself, closing the interview, follow up, negotiating salary, final decisions).
Part II: The valuable tips and strategies that will help you answer tough interview questions with confidence.
Cold Calling
Increase your chances of finding a job and gain contacts through successful cold calling and networking. Learn how to sell yourself over the telephone.
Second Career Information Session
Join us to find out if second career is the right option for you.
Create your Professional Brand
Learn how to market yourself and network your way to your next job.
The Centre for Education & Training (TCET) is a not for profit, progressive corporation located in Mississauga and Toronto. We enhance the self sufficiency and effectiveness of individuals and organizations by offering customized education, training and career resource solutions.
Youth Job Connection (YJC) program.
Program Description:
Youth Job Connection is a set of services designed to assist youth between the ages of 15-29 who face multiple or serious barriers to their employment.  The program provides access to employability and employment skills and provides education/training and work experiences for youth participants.YJC's goal is to achieve long-term employment, meaningful careers and success for the future.
Participants will receive:
Assessment and career development to assist youth increase their knowledge of job and career options, the job market and themselves
Opportunities to develop their employability skills
Training and work experience to increase job readiness
Support for transition into employment and or training and education during or after the program
Program offers:
Paid pre-employment training
Job matching, placements with employers and wage subsidies
Mentoring and work transition support.
YWCA Toronto helps women to improve their employment skills and unlock their potential. Our caring and professional staff support women so they can reach their career goals. With the YWCA, women can take classes to get their high school equivalency diploma, improve their English, enhance their computer skills, learn a skilled trade and reconnect with their interests, skills and abilities.
A workshop for women interested in gaining the knowledge and skills required in delivering exceptional customer service.
How to increase sales by improving customer service
To create and maintain valuable customer relationships, making a winning first impression and overcoming communication barriers
How to handle difficult customers and situations
The six basic customer needs and five main methods of communicating
How to improve telephone, listening and communication skills
Women who:
are entering or re-entering the workforce
want to make a career change or advance their careers
want to strengthen their skills
are new to Canada
want to increase job prospects
are interested in life long learning opportunities for their personal or professional growth
JVS Toronto plays a vital role in Toronto and York Region ensuring that jobseekers reach their potential at work, employers build the workforce they need to be successful, and students perform at their best.
We do this through a mix of general and specialized services to job seekers from all backgrounds and situations, employers from all sectors, and students and educators in primary, secondary and post-secondary education.
We have extensive experience providing career exploration, job search support, employment recruitment, mentoring, job coaching and retention, as well as psychological, educational and vocational assessments and treatment services delivered across nine locations.
Our dedicated team of multi-disciplinary professionals is experienced in providing services to children, youth and adults. In particular, we are knowledgeable in supporting individuals with disabilities, newcomers to Canada, at-risk youth, and mature workers.
Workshops Include:
Career Cruising
Preval Online
Interview Skills
Resume Workshop and More!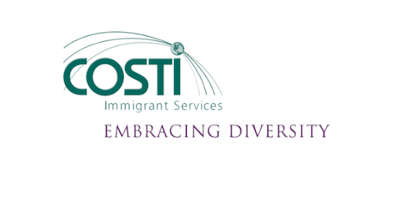 Meeting the needs of a diverse society since 1952, COSTI Immigrant Services is a community-based multicultural agency providing employment, educational, settlement and social services to all immigrant communities, new Canadians and individuals in need of assistance.
COSTI strives to be a leader in community service by using a client focused, proactive, and innovative approach in planning, developing and delivering services. Our programs ensure that regardless of language or cultural barriers, people who arrive in Canada are able to use their existing skills, learn new ones, and participate actively in all aspects of Canadian life.
Operating from 17 locations in Toronto, the Region of Peel and York Region, COSTI provides services in more than 60 languages. Last year, over 39,000 individuals received assistance.
Services include: access to employment planning, preparation and placement services; Employment Resource and Information Centre; information on Second Career; rehabilitation and skills training services and Summer Jobs Service.
FREE Workshops Include:
Ace your interview!
Apprenticeship workshop
CAFE Connections -Networking event
Interview Skills Workshop
Job Strategies Workshop
Career Cruising and more!